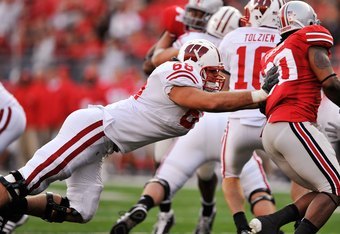 The Colts were ravaged by injuries last season and now have to address some major needs if they wish to stay in the AFC hunt.
With New York and Baltimore knocking on the door of the Colts, Patriots, and Steelers, they have to be extra cautious with their picks nowadays.
The Colts still need help stopping the run (once again) and they need a more consistent form on the offensive line after missing a few players in recent years.
Owner Jim Irsay is heavily linked to Big Ten players through the draft and Wisconsin tackle Gabe Carimi is one of the drafts best lineman.
Carimi is an experienced talent who can play virtually anywhere on the line. He may not grade out as an elite left tackle when all is said and done but he will, at the worst, get the job done everywhere else.
He can only help this team going forward and is a solid overall pick at this juncture.